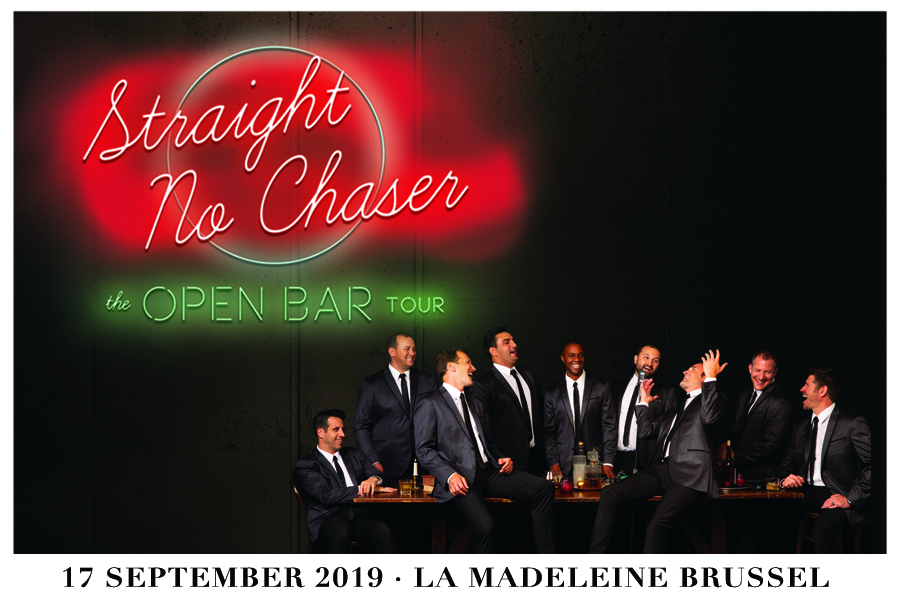 Op 17 September in La Madeleine Brussel
De Amerikaans "A Capella" Sensatie Straight No Chaser keert terug naar ons land met "The Open Bar Tour" op 17 September in La Madeleine Brussel
In thuisland Amerika heeft Straight No Chaser geen introductie meer nodig, want sinds de oprichting in 1996 is de mannelijke A Capella groep ongekend populair: naast de honderdduizenden cd's die over de toonbank zijn gegaan, zijn ook hun video's miljoenen keren bekeken, heeft de groep door het hele land voor uitverkochte zalen opgetreden en staan de tv-programma's in de rij om ze live in de studio te krijgen.
"If the phrase "male a cappella group" conjures up an image of students in blue blazers, ties, and khakis singing traditional college songs on ivied Campuses… think again. Straight No Chaser (SNC) are neither strait-laced nor straight-faced, but neither are they vaudeville-style kitsch."
Niet alleen op cd zijn de heren van Straight No Chaser een genot om naar te luisteren, ook live weten ze een verpletterende indruk te maken met hun harmonieuze samenzang en hun speelse en vooral onconventionele versies van popklassiekers en rockklassiekers, waaronder Sweet Dreams/HandClap, een onnavolgbare mash-up van de Eurythmics-hit Sweet Dreams (Are Made of This) en HandClap, van Fitz and the Tantrums, of een Beyoncé Medley . Ook liedjes van toppers zoals Red Hot Chili Peppers, Coldplay, Oasis, Stevie Wonder, Phil Collins, Paul McCartney, Colbie Caillat en Cee Lo Green werd reeds door hen onder handen genomen.
Tickets & Info:
Tickets voor Straight No Chaser in verkoop via gracialive.be, ticketmaster.be of telefonisch op het nummer 070 660 601 en in alle Fnac verkooppunten.