Concert agenda
Capitole Gent is nu vooral bekend door grote optredens van artiesten. Hieronder vindt u de live concerten en spektakels georganiseerd door Gracia Live en de toekomstige concertagenda van Gracia Live in Capitole Gent:
Capitole is een theater- en evenementenzaal in Gent. Eerst voornamelijk in gebruik als bioscoopzaal, werd het Capitole ook omgedoopt tot een zaal om concerten in te organiseren. Van 1986 tot 2000 werd de zaal niet gebruikt en vanaf 2000 waren er opnieuw optredens en vooral Lord of the Dance is een grote kaskraker die bijna jaarlijks terugkeert.
Het Sportpaleis, de Lotto Arena in Antwerpen, Capitole Gent en Vorst Nationaal behoren tot de Sportpaleis groep.
Zaalplan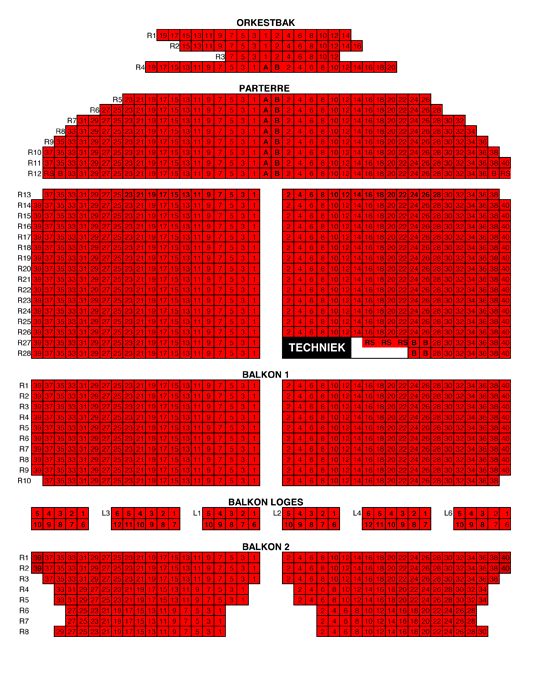 Adres
Het adres van de Capitole in Gent is Graaf Van Vlaanderenplein 5, 9000 Gent.
Tel : 0032 (0)3 400 69 99
Archive
| Date | Events | Salle | Ville | Tickets |
| --- | --- | --- | --- | --- |
| Lord Of the Dance | 28.01.2019 | Capitole | Gent | Archive |
| Lord Of the Dance | 27.01.2019 | Capitole | Gent | Archive |
| Helmut Lotti | 15.12.2018 | Capitole | Gent | Archive |
| Fastlove – a tribute to George Michael | 30.10.2018 | Capitole | Gent | Archive |
| Julien Clerc | 10.05.2018 | Capitole | Gent | Archive |
| Lord of the Dance | 22.11.2016 | Capitole | Gent | Archive |
| Lord of the Dance | 23.11.2016 | Capitole | Gent | Archive |
| Julien Clerc | 28.09.2015 | Capitole | Gent | Archive |
| Lord of the Dance | 27.11.2014 | Capitole | Gent | Archive |
| Lord of the Dance | 08.11.2014 | Capitole | Gent | Archive |
| Lord of the Dance | 07.11.2014 | Capitole | Gent | Archive |
| Julien Clerc | 28.04.2013 | Capitole | Gent | Archive |