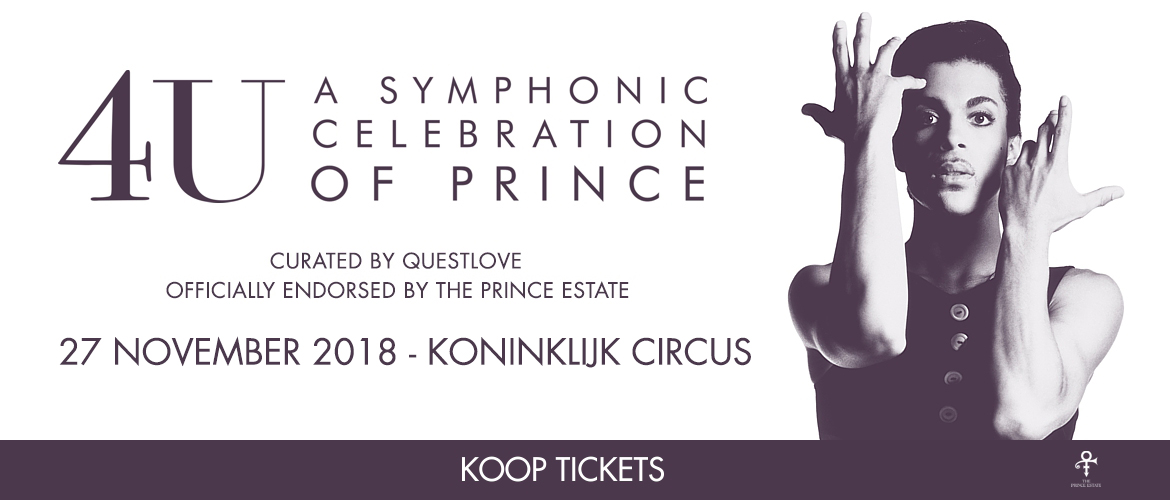 4U:  A  Symphonic  Celebration  of  Prince
27/11/2018 –

KONINKLIJK CIRCUS



---
"4U:  A  Symphonic  Celebration  of  Prince"  op 27 November 2018 in KONINKLIJK CIRCUS

De enige officieel erkende eerbetoon door "The Prince Estate" aan muzieklegende Prince.
Een project gecureerd door niemand minder dan "Questlove".
Een avond met zijn grootste hits gebracht door een symfonisch orkest
en een live band van topmuzikanten.
Vertoning van Foto- en videomateriaal uit het rijkgevulde archief van "The Prince Estate".
Tickets via deze link of in alle Fnac Verkooppunten

VOOR MEER INFORMATIE BETREFFENDE DE VERPLAATSING VAN HET CONCERT VAN HET KONINKLIJK CIRCUS NAAR VORST NATIONAAL KLIK HIER
4U:  A  Symphonic  Celebration  of  Prince  brengt de muziek van Prince op een unieke manier. 4U duikt in het bijzondere en uitgebreide repertoire van Prince om naast de vele hits die verschillende generaties fans konden bekoren ook een aantal minder bekende pareltjes uit Prince' oeuvre in de verf te zetten. Het is de eerste en enige door The Prince Estate officieel erkende symfonische ode aan de muzieklegende. Elke show wordt live opgeluisterd door een band van topmuzikanten en -zangers die het orkest zullen bijstaan. De grote Prince-fan Questlove hielp bij de keuze voor de muziek- en orkestarrangementen die aan bod zullen komen en selecteerde eigenhandig de begeleidende band van topmuzikanten en –zangers. De show in het Koninklijk Circus maakt deel uit van een uitgebreide wereldtournee die in 2018/19 zowel podia in de VS als in Europa aandoet.
 "De muziek van Prince is uniek in haar soort, een genre op zich." – Ahmir "Questlove" Thompson/Rolling Stone
TRAILER : "4U: A Symphonic Celebration of Prince" (Washington DC Show SEP 8TH)