Randy Newman revient en Belgique!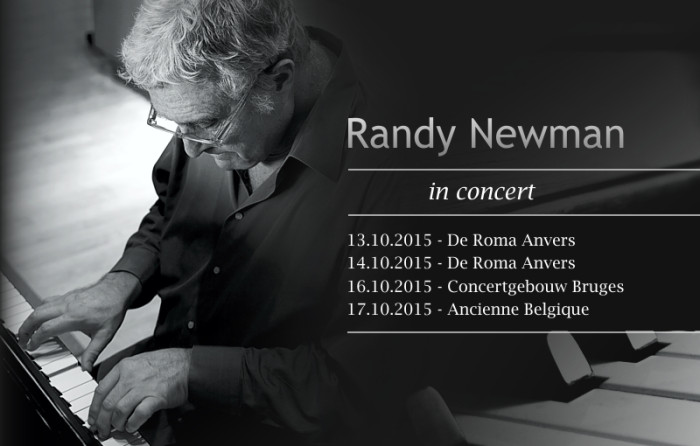 Cet événement a déjà eu lieu
Randy Newman en Octobre dans les salles belges


Notre pays accueillera Randy Newman en octobre prochain. Le 13 et 14 octobre au Roma à Anvers, le 16 octobre au Concertgebouw de Bruges et le 17 octobre à l'Ancienne Belgique à Bruxelles.
Des chansons déchirants jusqu'à des musiques de film
Les chefs-d'œuvre musicaux de Randy Newman sont aujourd'hui connus de plusieurs générations de fans. Son répertoire impressionnant – allant des morceaux déchirants de tristesse aux chansons satiriques, sans oublier des musiques de film inoubliables – le place parmi les plus grands.
Short People et d'autres musiques de Randy Newman
À la fin des années 1970, Newman perce avec les tubes « Short People » et « Rider In The Rain ». Il connaîtra aussi le succès avec ses albums « Little Criminal », le controversé « Good Old Boys » et « Harps and Angels », sorti en 2008.
Musiques de film pour Toy Story, A Bug's Live et Monsters Inc
Le public apprécie l'auteur-compositeur-interprète américain pour ses textes mordants, émouvants, ironiques et parfois sarcastiques. Depuis les années 1980, Newman se consacre aussi à la composition de musiques de film et à la réalisation de bandes-sons, notamment pour Toy Story, 1001 pattes et Monstres Inc. Avec vingt nominations aux Oscars, deux statuettes remportées dans la catégorie « meilleure chanson originale », six Grammy Awards et une étoile sur le Walk of Fame, Newman fait partie des auteurs-compositeurs-interprètes américains les plus célèbres de tous les temps. Il totalise 35 albums et dispose d'un répertoire colossal.
De Roma à Anvers,  Concertgebouw à Bruges et Ancienne Belgique à Bruxelles
Les 13, 14, 16 et 17 octobre, il se produira au Roma à Anvers, au Concertgebouw de Bruges et à l'Ancienne Belgique à Bruxelles. Les tickets pour aller admirer le talent légendaire de Randy Newman seront en vente à partir du lundi 30 mars!