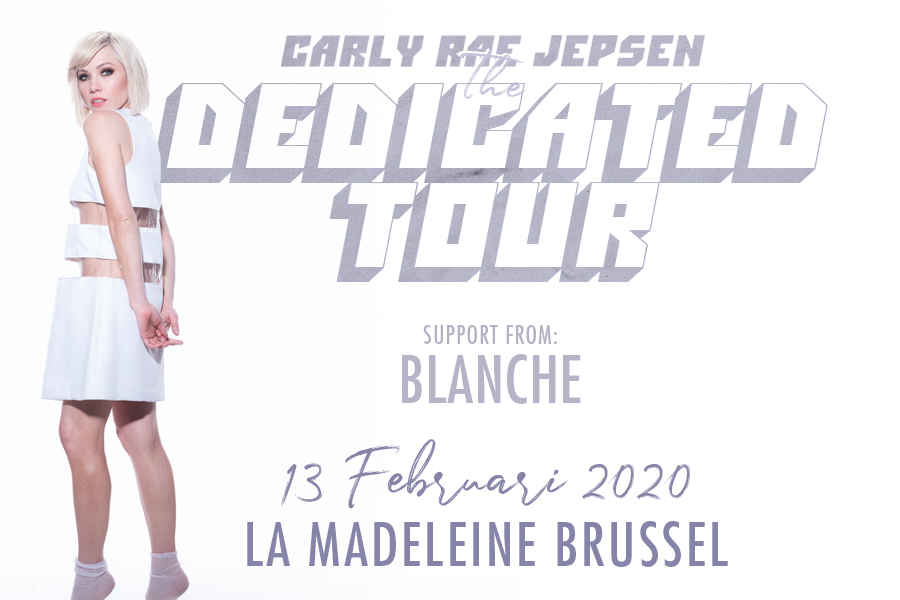 Carly Rae Jepsen
Met support van Blanche
Op 13 februari 2020 in La Madeleine, Brussel 
Na succesvolle passages op Best Kept Secret Festival en Primavera Sound afgelopen zomer, komt popicoon Carly Rae Jepsen nu ook voor de eerste keer naar België! Op donderdag 13 februari komen al haar meezingers aan bod in La Madeleine te Brussel.  
Je kent de Canadese zangeres ongetwijfeld nog van haar monsterhit "Call Me Maybe" die tal van awards en zelfs twee Grammy-nominaties ontving. De track stond op nummer 1 in de iTunes Singles lijst in meer dan 47 landen, werd meer dan 20 miljoen keer verkocht en kreeg een Diamondplaat in de United States. Op hetzelfde album E*MO*TION kregen we ook de single "I Really Like You" te horen, die door Rolling Stone "a pop masterclass" werd genoemd. Stereogum bombardeerde Carly Rae tot "an indisputable, unfuckwithable pop genius".  
Haar nieuwste album Dedicated behoudt het vrolijke karakter en zorgt ervoor dat zowel de mainstream- als de undergroundliefhebbers overtuigd zijn van haar kwaliteiten.  
Mee euforie beleven op "Part For One", "Want You In My Room" of "Good Time"? Tickets voor het concert van Carly Rae Jepsen op 13 februari zijn beschikbaar vanaf 6 december om 10u op www.gracialive.be.  
With support from Blanche
Just announced! Blanche will be the support act of Carly Rae Jepsen on February 13Th at La Madeleine! "Meetings, writing sessions, songs that, like me, were fueled by travelling back and forth between London and Brussels". This is how Blanche sums up the three years that passed between one evening in spring 2017 when she revealed herself to the whole of Europe with City Lights and her first album to be released in 2020. Get your tickets quick to see these two powerwomen on stage!