Le 5 Juillet 2018 - Sportpaleis Anvers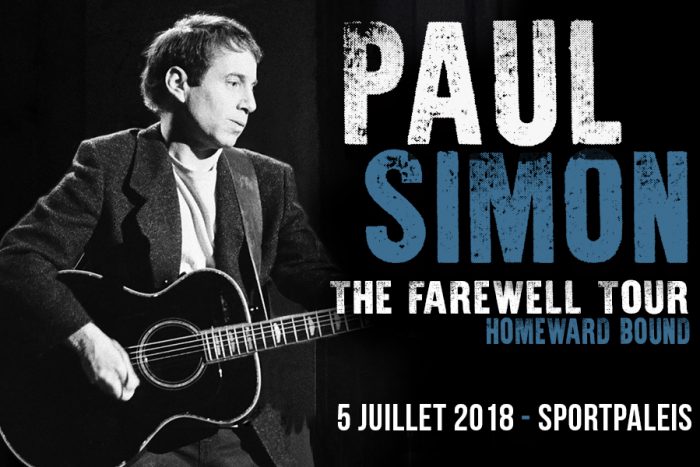 THE FAREWELL: HOMEWARD BOUND TOUR

A 76 ans, Paul Simon officialise ce lundi 5 février une tournée d'adieu baptisée The Farewell : Homeward Bound Tour. La Belgique est l'un des rares pays européens où le chanteur américain se produira. Son dernier concert chez nous remonte à novembre 2016, à Forest National, suite à la sortie de son treizième album studio, Stranger to Stranger.
Celui qui est devenu célèbre dans le monde entier grâce au duo Simon & Garfunkel a vendu, au cours de sa carrière solo, plus de 50 millions de disques et remporté 16 Grammy Awards dont un, en 2003, pour l'ensemble de sa carrière.
Cette ultime série de concerts sera donc la dernière occasion pour le public d'écouter des succès tels que You Can Call Me Al, Graceland et The Sound of Silence. Ne manquez pas ce rendez-vous, l'une des neuf dates européennes. Une page de l'histoire musicale se fermera définitivement le jeudi 5 juillet au Sportpaleis d'Anvers.
Artist to stage ultimate concert performances in North America, UK and Europe,promising audiences an historic evening of career-spanning hits and timeless classics
"I've often wondered what it would feel like to reach the point where I'd consider bringing my performing career to a natural end. Now I know: it feels a little unsettling, a touch exhilarating and something of a relief. I love making music, my voice is still strong, and my band is a tight, extraordinary group of gifted musicians. I think about music constantly. I am very grateful for a fulfilling career and, of course, most of all to the audiences who heard something in my music that touched their hearts." – Paul Simon
CLIQUEZ ICI – pour le communiqué de presse en Anglais complet
Info & Tickets
Billets en vente  sur teleticketservice.com, par téléphone au 070 345 345 (0,30 €/ min) ou dans tous les points de vente Fnac.
DATES DE LA TOURNÉE EUROPÉENNE
30/06               Stockholm
01/07                Oslo
03/07               Copenhague
05/07              Anvers
07/07                Amsterdam
10/07                Manchester
11/07                Glasgow
13/07                Dublin
15/07                Londres