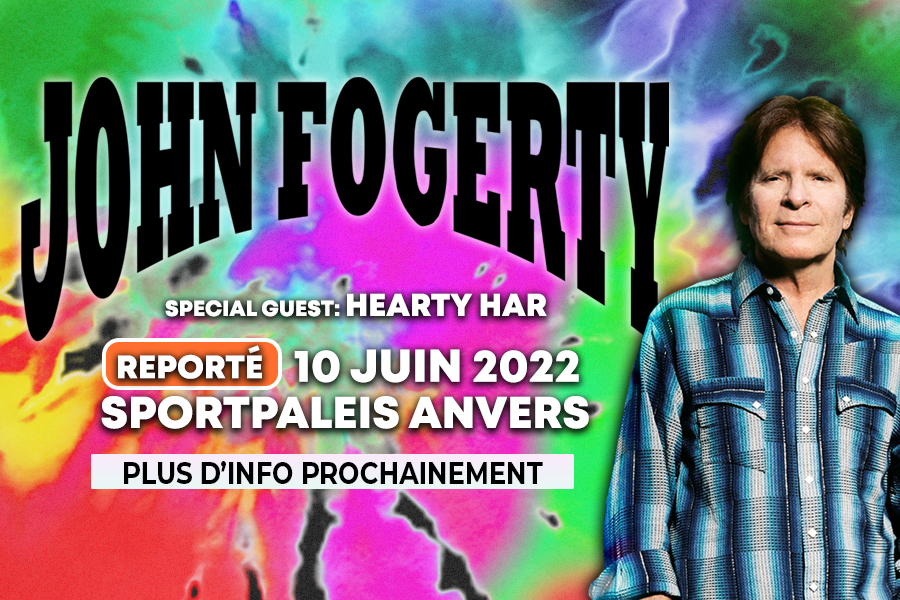 MISE À JOUR – 21 mars 2022
Dû au circonstances actuelles dans le monde, John Fogerty a pris la décision difficile de reporter sa tournée européenne de 2022.
"I can't wait to be 'Rockin' All Over the World' as soon as we can." – John Fogerty
Dès que la nouvelle date pour son concert au Sportpaleis d'Anvers sera connue, nous vous en informerons.
Vos tickets restent valables pour la nouvelle date.
---
John Fogerty est un monument de l'histoire du rock ! Il fête cette année ses 50 ans de carrière, un anniversaire qu'il compte bien célébrer avec vous, au Sportpaleis ! 
John Fogerty s'est fait connaître en tant que chanteur et guitariste de Creedence Clearwater Revival. Ses talents d'auteur-compositeur ont donné naissance à des tubes tels que « Bad Moon Rising », « Proud Mary », « Have You Ever Seen The Rain » et « Fortunate Son ». 
Dans les années 80, sa carrière solo a décollé grâce au single à succès « Centerfield ». La suite a été marquée par quelques GRAMMY Awards et son intronisation au Rock and Roll Hall of Fame et au Songwriters Hall of Fame. Et ce n'est pas tout, puisqu'il est aussi classé par Rolling Stone parmi les 100 meilleurs guitaristes et les 100 meilleurs chanteurs de tous les temps.  
John Fogerty viendra prouver qu'il est à la hauteur de sa réputation au Sportpaleis !