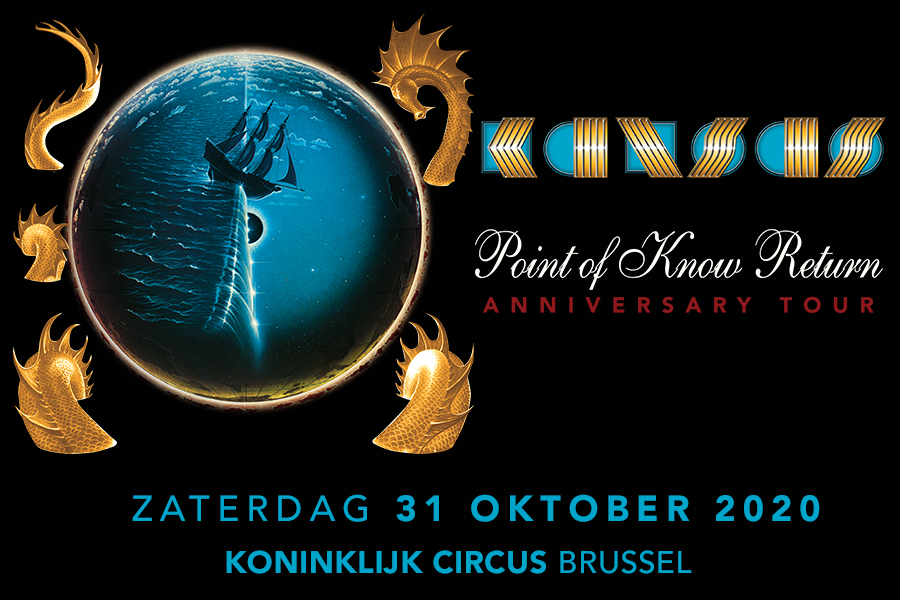 Op 31 oktober 2020 in Koninklijk Circus, Brussel
Na een uiterst succesvolle Point of Know Return Anniversary Tour in de Verenigde Staten keert Kansas, na een lange afwezigheid terug naar Europa, met een passage in het Koninklijk Circus te Brussel op 31 oktober 2020! 
Naast de volledige uitvoering van het iconische album Point of Know Return, beloven ze alvast al hun grootste hits en "fan favorites" op het podium te brengen tijdens een meer dan 2 uur durende show!  
Met een legendarische carrière van inmiddels vier decennia achter de rug, heeft KANSAS zijn plaats meer dan opgeëist aan het Amerikaanse rockfirmament. Deze "garageband" uit Topeka (in Kansas, uiteraard) bracht in 1977 het album Point of Know Return uit, met daarop de superhit Dust in the Wind, dat als single miljoenen keren over de toonbank ging, maar ook andere favorieten zoals Portrait (He Knew), Closet Chronicles en Paradox. Al snel werd Point of Know Return goed voor maar liefst zes miljoen verkochte exemplaren, het meest succesvolle album van de groep. 
"It's been a while since the band has been able to perform in Europe, where we have some very passionate fans," voegt KANSAS gitarist Richard Williams toe. "We are excited to take the Point of Know Return Anniversary Tour across Europe. Not only will they hear us perform that album in its entirety, along with other hits and deep cuts, but they will be the first fans to hear some of the songs from our upcoming studio album performed live." 
Tickets voor de KANSAS Point of Know Return Anniversary European Tour gaan in verkoop op woensdag 4/03 om 10u via www.gracialive.be. VIP packages zijn beschikbaar op www.KansasBand.com.