Op 3/10/2019 in Kavka Oudaan in Antwerpen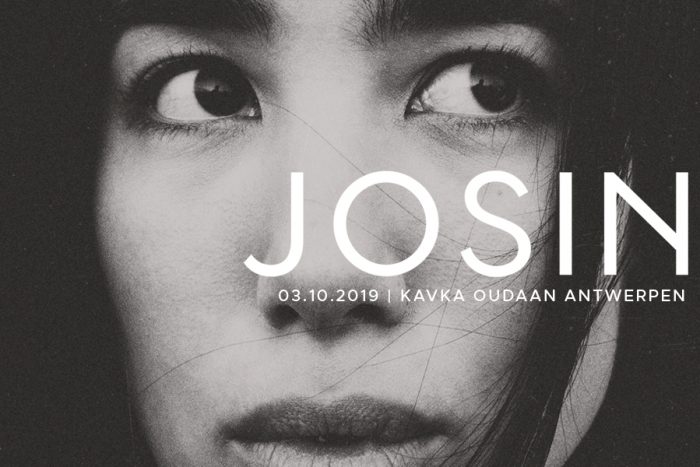 The concert of Josin, that should have taken place on March 5th has now been postponed to Oct 3rd 2019. 
Josin decided to postpone her album tour to autumn this year, so that she can present her debut to you in a way that lives up to all the work and love she has put into this record. She wants to put together the best show she can for you and in order to do this she needs more time!
"Deeply connected and in beautiful anticipation of seeing you in autumn to share special moments.🖤🖤🖤
(more infos on dates & tickets next week)" – Josin
Tickets for March 5th will remain valid for the new concert date. However, if you wish to be refunded, please send us an email to info@gracialive.be
JOSIN's muziek is een dynamische mix van elektronische jolts, vibrerende sounds en poëtische teksten. De diepgang van haar songs blijven ergens tussen hoofd en hart nazinderen. De warme melancholie van haar producties wordt regelmatig gebruikt door de elektrowereld. Haar muziek is complex en eerlijk maar blijft je tegelijkertijd navolgen en is fragiel. Er is zeker iets heel boeiends aan de muziek van JOSIN en haar debuut markeert een opwindende start voor een betoverende nieuwe artiest.
JOSIN heeft getourd met RY X, BOY, Roosevelt en Sóley en speelde op festivals als Maifeld Derby, Puls Open Air, Burning Eagle, Artlake, c/o Pop Festival en Iceland Airwaves waar ze het publiek en de critici voor zich won.
Geboren in Keulen, met een Koreaanse moeder en een Duitse vader, die beiden ook nog eens operazangers zijn, groeide JOSIN op in een gezin waar muziek centraal staat.
Desondanks, jaagt ze haar kinderdroom na en studeert ze geneeskunde in Nice.
"Tijdens mijn eerste jaar geneeskunde, voelde dat er iets ontbrak. Ik denk dat ik nooit echt zag wat er eigenlijk altijd al was: muziek. Misschien was het voor mij te normaal om op te groeien in een artistieke omgeving. Op een bepaald ogenblik werd deze innerlijke muzikale stem onvermijdelijk en wist ik dat ik dit pad moest volgen."
JOSIN stopt met haar studie geneeskunde, verhuist naar Hamburg en ontwikkelt haar muzikale identiteit als een autodidactische artiest en producer.
Tickets en info
Tickets zijn vanaf nu in verkoop via Eventbrite.be