le 2 avril 2018 à l'Ancienne Belgique Club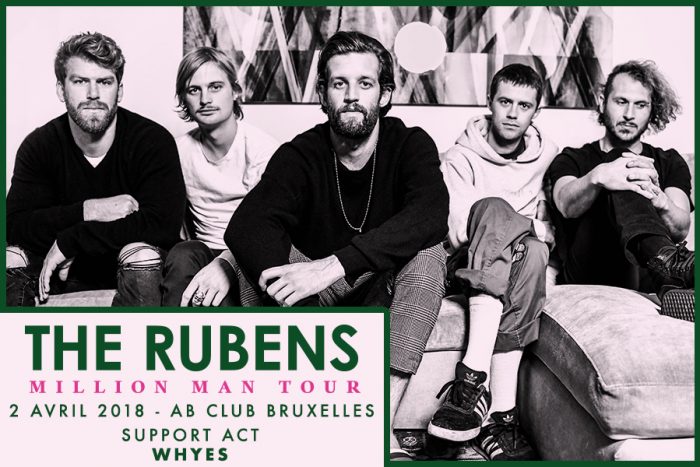 Cet événement a déjà eu lieu
The Rubens le 2 avril 2018 à l'Ancienne Belgique Club
En tournée mondiale avec leur « Million Man Tour »
The Rubens, originaire d'Australie, est un groupe de rock alternative qui se compose des 3 frères Margin : Zaac, Sam et Elliot et leurs amis Scott Baldwin et William Zeglis.
Leur premier album éponyme était un énorme succès et se retrouvait dans le top 3 des Aria Charts (prestigieux hit-parade Australien) .
Hoops, leur deuxième album sorti en 2016 – et récompensé d'un disque d'or – leur mènera à une tournée de salles combles en Australie.
En 2018, The Rubens sortiront leur troisième album, produit par les producteurs de Run The Jewels : EL-P, Killer Mike et les frères Wilder Zoby et Little Shalimar (aka Toribtt Schwartz).
Le premier tube de ce nouvel ablum, « Million Man », est déjà sorti et à découvrir.
Le groupe fera escale en Belgique le 2 avril 2018 à l'AB Club .
Les billets pour ce concert seront en vente à partir du vendredi 1 décembre à 10h.