Le 14 Juillet au Théâtre en Plein Air d'Anvers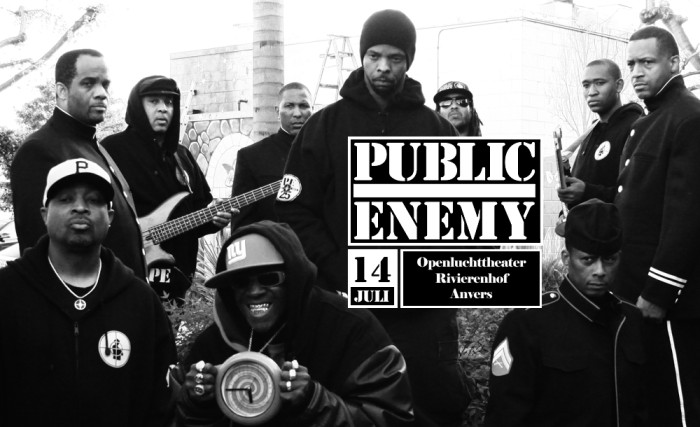 Cet événement a déjà eu lieu
Professor Griff, point levé en tenue de commando, Chuck D et son discours incisif,  Flavor Flav et sa grosse horloge au tour de son cou, DJ Lord, Terminator X, S1W,… Anvers s'apprête pour un « Old School night out » avec Public Enemy ! Un groupe qui après 20 ans d'existence est toujours LA source d'influence majeure du monde du hip-hop.
Ce groupe de hip-hop de Long Island, New York, qui a fait de la critique sociale sa marque de fabrique, est surtout connu pour ses attaques acerbes contre la droite et sa lutte contre la discrimination. La controverse suscitée  par Chuck D lorsqu'il a mis sur la table la problématique sociale de la population noire dans les années 80 a fait date dans l'histoire du rap.
Leur premier album, « Yo! Bumrush the show », est sorti en 1987 sur le label légendaire Def Jam de Russel Simmons et Rick Rubin (qui a aussi signé LL Cool J, les Beastie Boys et bien d'autres légendes du hip-hop). Leur deuxième opus « It Takes a Nation of Millions to Hold Us Back », figure parmi les « 500 plus grands albums de tous les temps » du magazine américain « Rolling Stone ».
On vous donne rendez-vous à Anvers le 14 juillet !