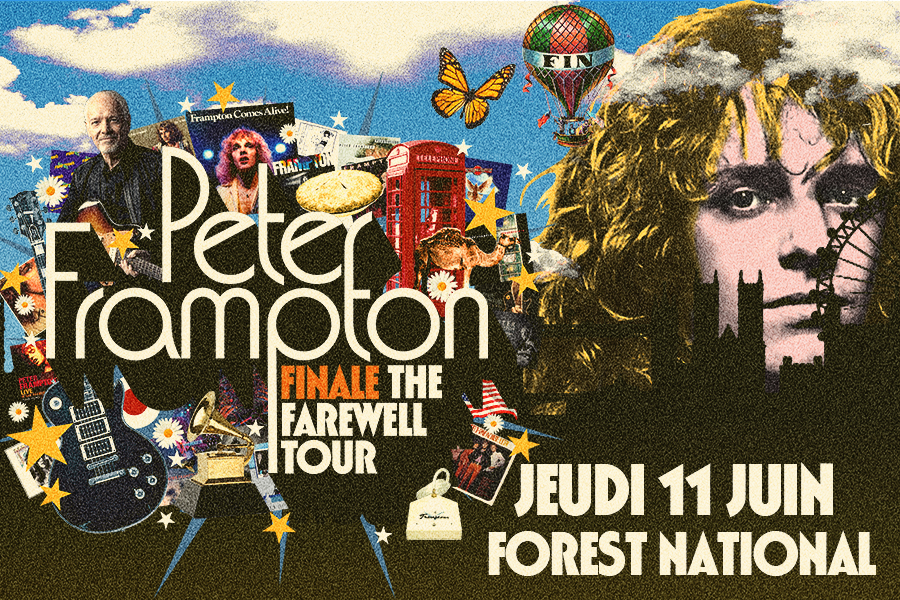 Peter Frampton finale: the farewell tour
11.06.2020 – Forest National, Bruxelles
Le guitariste de légende Peter Frampton annonce un concert d'adieu le 11 juin 2020 à Forest National, à Bruxelles, dans le cadre de Peter Frampton Finale—The Farewell Tour.  
« I look forward to seeing my dear friends in Belgium next year. My Finale Tour is a trip through my music with my incredible Peter Frampton Band », déclare Frampton. 
Peter Frampton est l'un des artistes les plus acclamés de l'histoire du rock. Cette année, la Music Business Association lui a remis le Chairman's Award for Sustained Creative Achievement lors du Awards & Hall of Fame Dinner qui faisait partie du congrès annuel de l'Association – Music Biz 2019. Cette année, Frampton s'est également vu décerner un Les Paul Innovation Award lors des 34e TEC Awards, attribués chaque année lors du NAMM Show, et il a fêté le 43e anniversaire de son cinquième album solo, Frampton Comes Alive!, l'un des disques les mieux vendus de tous les temps (plus de 17 millions d'exemplaires vendus dans le monde). 
En octobre 2019, Frampton a achevé le volet nord-américain de son Finale Tour. Les nouvelles dates internationales viendront clôturer sa tournée. Atteint de myosite à inclusions, Frampton a ensuite l'intention de prendre sa retraite. La myosite à inclusions est un trouble dégénératif des muscles caractérisé par des inflammations, une faiblesse et une atrophie musculaires.  
Tickets en vente à partir du jeudi 19/12 à 10 h sur www.gracialive.be.