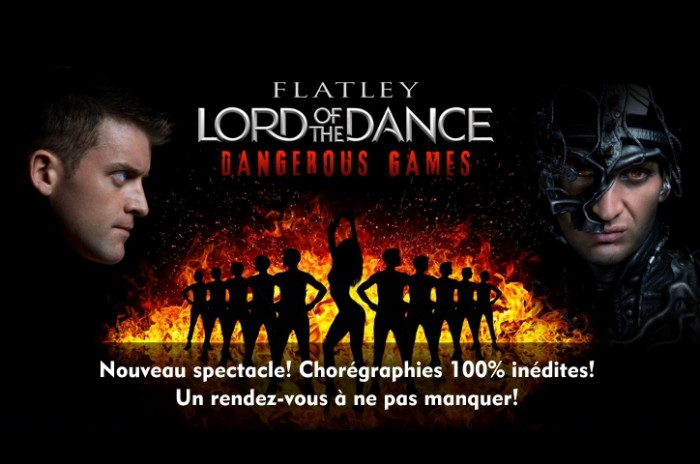 Cet événement a déjà eu lieu
MICHAEL FLATLEY – LORD OF THE DANCE: DANGEROUS GAMES
Après son grand succes en 2012, avec plus de 25000 spectateurs, Lord de Dance revient en Belgique en Novembre 2014!
Avec Lord Of The Dance: Dangerous Games, Michael Flatley revisite son traditionnel chef-d'œuvre de manière spectaculaire. Sans rien perdre de la précision et des sensations fortes de l'original, le tout nouveau spectacle de Lord Of The Dance: Dangerous Games se présente sous une mise en scène inédite, avec de nouveaux costumes et une nouvelle chorégraphie. Quarante jeunes artistes parmi les plus talentueux du monde vous offriront un spectacle époustouflant, sous la direction de Michael Flatley, une équation combinant ce que la tradition irlandaise a de meilleur à l'excitation d'une toute nouvelle musique et de nouvelles danses.
De par ses chorégraphies novatrices et inédites et sa prestation inoubliable à l'Eurovision en 1994, Michael Flatley a révolutionné à jamais le monde de la danse, et en particulier celui de la danse irlandaise. Ses spectacles ont connu un succès planétaire et à chaque fois que cet artiste et musicien à la carrière extraordinaire se produit – Flatley figure d'ailleurs dans le Guiness Book des records pour une vitesse de claquettes incroyable de 35 pas à la seconde –, il affiche salle comble et de ravit son public depuis plus de vingt ans déjà.
Ne ratez pas ce rendez-vous avec le nouveau spectacle de Michael Flatley's Lord of the Dance : 'Dangerous Games'!