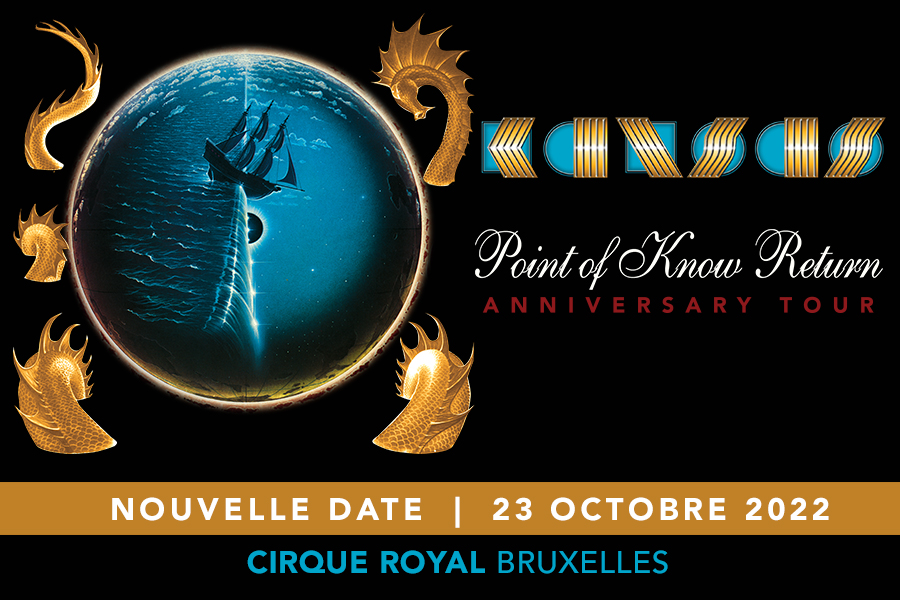 23.10.2022 – Cirque Royal, Bruxelles (Nouvelle date)

Suite aux mesures de santé autour du COVID-19, le concert de Kansas à Cirque Royal sera reporté du 31 octobre 2021 au 23 octobre 2022.
Si vous avez acheté un billet pour le concert, votre billet restera valable pour la nouvelle date. Les tickets pour la nouvelle date sont désormais en vente sur www.gracialive.be
POINT OF KNOW RETURN ANNIVERSARY TOUR 
Après le succès incroyable de la tournée Point of Know Return Anniversary Tour aux États-Unis, Kansas fait son retour en Europe après une longue absence, avec un passage au Cirque Royal de Bruxelles le 23 octobre 2022 ! 
Outre l'intégrale de l'album emblématique « Point of Know Return », le groupe promet déjà d'interpréter tous ses plus grands tubes et les morceaux préférés de ses fans lors de ce concert qui durera plus de 2 heures !  
Avec une carrière légendaire s'étendant sur plus de quatre décennies, KANSAS s'est solidement établi comme l'un des groupes américains de rock classique emblématiques. Ce « groupe de garage » originaire de Topeka a sorti « Point of Know Return » en 1977. Sur cet album, on retrouve l'énorme tube et single « Dust In The Wind », écoulé à un million d'exemplaires, ainsi que des morceaux très appréciés comme « Portrait (He Knew) », « Closet Chronicles » et « Paradox ». « Point of Know Return » a été l'album studio du groupe au plus gros succès commercial, avec plus de six millions d'exemplaires vendus ! 
« It's been a while since the band has been able to perform in Europe, where we have some very passionate fans, » ajoute le guitariste de KANSAS, Richard Williams. « We are excited to take the Point of Know Return Anniversary Tour across Europe. Not only will they hear us perform that album in its entirety, along with other hits and deep cuts, but they will be the first fans to hear some of the songs from our upcoming studio album performed live. » 
Les tickets pour le KANSAS Point of Know Return Anniversary European Tour seront en vente à partir du mercredi 04/03 à 10 h sur www.gracialive.be. Les packs VIP sont disponibles sur www.KansasBand.com.