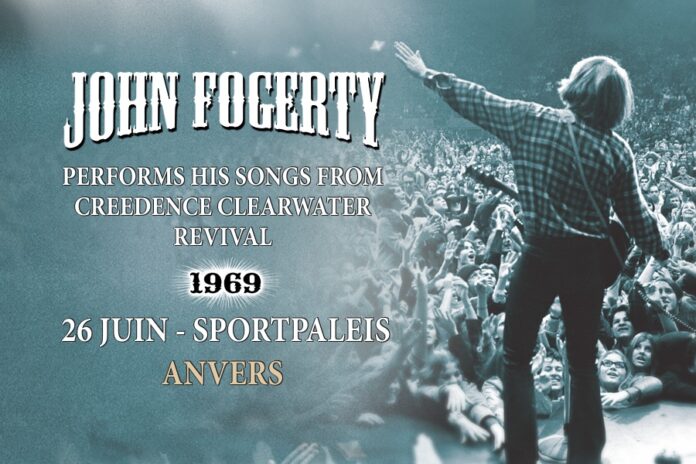 JOHN FOGERTY PERFORMS HIS SONGS FROM CREEDANCE CLEARWATER REVIVAL "1969"

John Fogerty se produira le 26 juin à Sportpaleis d'Anvers dans le cadre sa tournée mondiale « 1969 », axée sur l'année la plus acclamée de Creedence Clearwater Revival .
En 1969, CCR a sorti trois albums cultes : « Bayou Country », « Green River » et « Willy and the Poor Boys », tous trois certifiés disque multi-platine. « Green River », en particulier, s'est vendu à plus de trois millions d'exemplaires.
Le répertoire de 1969 inclut des chansons qui ont marqué leur carrière, comme « Proud Mary », « Bad Moon Rising », « Lodi », « Down on the Corner » et « Fortunate Son ».
« J'assimilais tout », déclare Fogerty à propos de cette période, durant laquelle Creedence Clearwater Revival était aussi sur scène à Woodstock.
« Tout le monde savait que nous étions à un moment charnière. J'assimilais tout et en faisais des chansons. »
Sa carrière solo a décollé dans les années 80, grâce au single « Centerfield », qui a caracolé en tête des charts. Lauréat d'un GRAMMY Award, Fogerty a écrit des tubes comme « Change in the Weather », « Rock and Roll Girls » et bien d'autres encore. Le magazine Rolling Stone le classe dans son top 100 des meilleurs guitaristes et dans son top 100 des meilleurs chanteurs de tous les temps. Il a été intronisé au Rock and Roll Hall of Fame, ainsi qu'au Songwriters Hall of Fame.
Un concert à ne pas manquer!