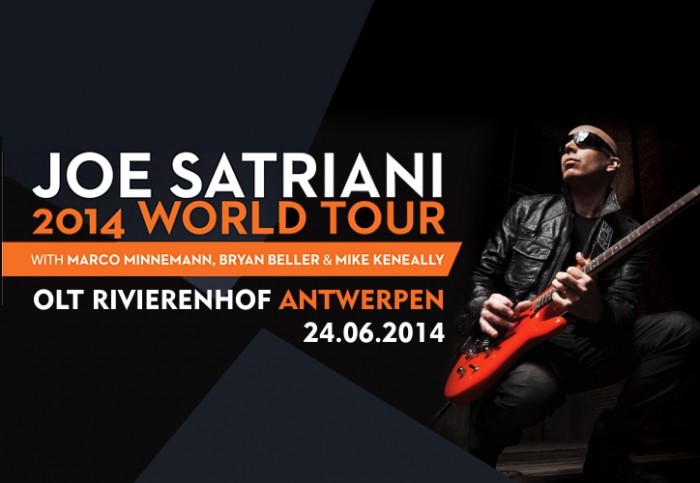 Cet événement a déjà eu lieu
Concert en focus le 21 avril 2018: G3 European Tour au Stadsschouwburg Anvers avec Joe Satriani live et Uli Jon Roth formerly The Scorpions et avec John Petrucci de Dream Theater.
Joe Satriani a décidé de passer la fête de la musique avec son public le mardi 24 juin au Rivierenhof Anvers! Vous savez désormais quoi faire ce soir-là!
Depuis la sortie de Surfing With The Alien en 1987, Joe Satriani est considéré comme l'un des meilleurs guitaristes au monde par les magazines spécialisés. Au fil des albums et des tournées, il a conforté son statut de guitariste hors norme. En parallèle de sa carrière solo, Joe s'associe à Sammy Hagar, Michael Anthony (Van Halen) et Chad Smith (Red Hot Chilli Peppers) pour former Chickenfoot. L'album qui en découle est un succès partout dans le monde, reçevant même plusieurs awards aux États-Unis.
Le dernier album solo de Joe Satriani, Unstoppable Momentum, est un pur moment de bonheur instrumental.
Il a vendu 10 millions d'albums et obtenu 14 nominations aux Grammy Awards, tourné avec les plus grands (Mick Jagger, Deep Purple), sorti une série d'albums instrumentaux qui ont servi de modèle à toute une famille de guitaristes : Joe Satriani est un véritable passionné.
C'est à ce titre qu'il offre à ses fans Belges un joli moment d'intimité en s'invitant sur la scène du Rivierenhof Anvers, mardi 24 juin.