Le 11 Novembre au Sportpaleis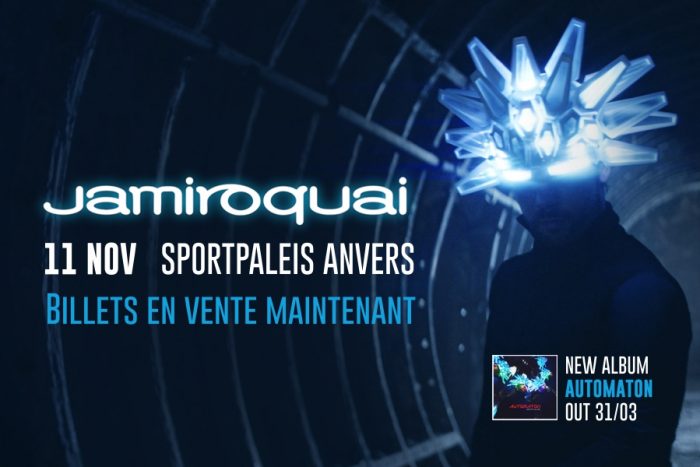 Cet événement a déjà eu lieu
Après avoir écoulé les places pour leurs premiers concerts depuis plus de six ans en à peine trente secondes, les superstars de la scène électro, soul et funkJamiroquai viennent d'annoncer une toute nouvelle tournée européenne cet automne. Cet été, le groupe donnera un concert très spécial devant les 18 000 spectateurs de la O2 Arena, à l'occasion de la 10e anniversaire de la salle… Mais ce qui nous intéresse encore plus..  Jay Kay et Jamiroquai seront de retour en Belgique le 11 novembre au Sportpaleis d'Anvers!
Le groupe a vécu quelques mois intenses depuis qu'il a annoncé que son nouvel opus, « Automaton », le premier album depuis sept ans, sortira le 31 mars. Ils ont reçu un énorme soutien sur les ondes Britanniques :
'Wow this new Jamirquai Record is a BEAST'
Zane Lowe
'CLOUD 9' hits right into the pure sunshine funk of Jamiroquai's heartland fanbase!
Ken Bruce Radio 2
"Feels so good to play Jamiroquai on BBC Radio 1!"
Danny Howard
"Jamiroquai's back with a big remix"
Pete Tong
Jamiroquai est l'un des groupes britanniques les plus influents de ces 25 dernières années. Chacun de leurs sept albums ont atteint le top 10 britannique et trois se sont même classés en première position. Au total, ils ont écoulé plus de 26 millions d'albums dans le monde et ils détiennent le record – inscrit au Guinness Book – de l'album de funk le mieux vendu de tous les temps. Pour célébrer la sortie d'Automaton, le groupe a annoncé une série de concerts exclusifs et d'apparitions dans des festivals tout au long de l'année, en commençant par des prestations très attendues et déjà à guichets fermés à la salle Pleyel de Paris et à la Roundhouse de Londres à la fin du mois.
Videos
INTERVIEW AVEC GRAHAM NORTON