Le 5 Mei à La Madeleine à Bruxelles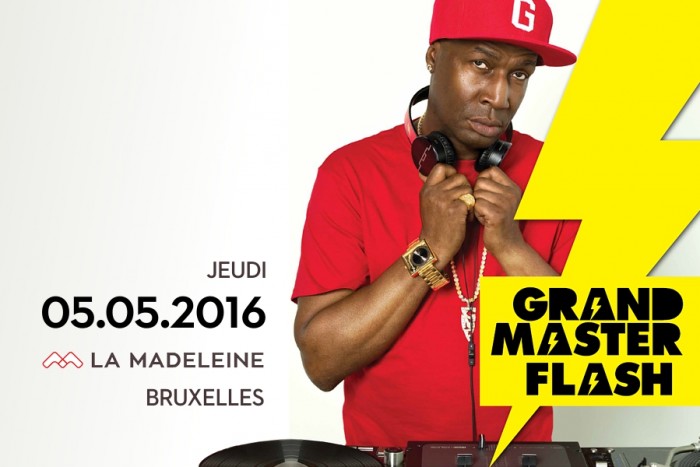 Cet événement a déjà eu lieu
Préparez-vous pour une nuit en compagnie d'une véritable légende du Old School
Grandmaster Flash est considéré comme un des pionniers du hip-hop, du scratch et du remix. Il est l'inventeur de certaines techniques comme le cutting.
Sa rapidité et sa dextérité sont à l'origine de son surnom « Flash » (référence au super-héros le Flash). Son habileté à changer de disques avec les pieds, les mains derrière le dos lui valent le titre de « Grandmaster » (« grand maître »).
Il forme son propre groupe, Grandmaster Flash and the Furious Five, à la fin des années 1970.
Grandmaster Flash and the Furious Five est inclus au Rock and Roll Hall of Fame en 2007, et devient le premier groupe de hip-hop à être honoré
Une soirée old school à ne pas manquer en compagnie d'un des pionniers du Hip Hop.
Cliquez ici pour plus d'info.
Tickets et infos
En Ligne: www.gracialive.be et www.ticketmaster.be
Par téléphone au 070 660 601
Dans les points de ventes Fnac
Programme de la soirée:
20h15-21h15 :  Warm-up DJ Mr Jay
21h30-23h00:  Grandmaster Flash
La Madeleine:
Situé en plein cœur de Bruxelles juste à coté de la gare Bruxelles-Central, La Madeleine bénéficie d'une accessiblité exceptionelle.
Plan d'accès: http://www.la-madeleine.be/visiteurs/plan-dacces