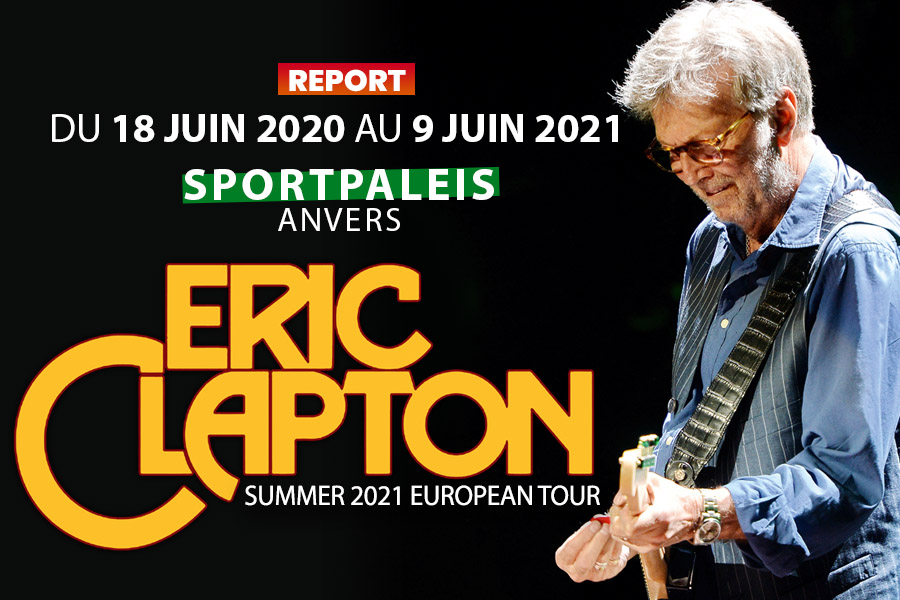 Eric Clapton
Summer 2021 European Tour
Tickets en vente dès maintenant – cliquez ci-dessous
ERIC CLAPTON
REPORT DU CONCERT D'ERIC CLAPTON AU SPORTPALEIS D'ANVERS DU 18 JUIN 2020 AU 9 JUIN 2021
Le concert d'Eric Clapton au Sportpaleis le 18 juin 2020 sera reporté au 9 juin 2021.
Veuillez trouver le communiqué officiel de l'équipe d'Eric Clapton ci-dessous :
« Suite à l'avis des organisations de santé mondiales, nous regrettons de vous informer que nous avons dû prendre la décision de reporté la tournée européenne d'Eric Clapton prévu en mai/juin 2020 au printemps de 2021. La santé et la sécurité de notre groupe, de l'équipe technique, du personnel de salle et de nos fans sont notre priorité. Nous avons hâte de vous voir au printemps de 2021. » – Eric Clapton Touring
"Following the advice of global healthcare agencies, we are sorry that we have no alternative but to announce that the Eric Clapton's European Tour planned for May/June 2020 will now be rescheduled to spring 2021. The health and safety of our band, crew, venue staff and fans are our top priority. We look forward to seeing you in Spring 2021" – Eric Clapton Touring
Tous les billets restent valables pour la nouvelle date de 2021.
Sportpaleis Anvers – 9 juin 2021 à 20h00
SUMMER 2021 EUROPEAN TOUR
Ouverture de la billetterie jeudi 11 octobre à 10h sur www.gracialive.be
Un des plus grands guitaristes au monde revient finalement en concert en Belgique après une absence de plus de 10 ans.
Eric Clapton, une véritable légende avec des tubes comme "Tears in Heaven", "Layla", "Crossroads", "Cocaine" ou encore son plus récent "I Still Do".
Et n'oublions pas son passé dans les groupes iconiques The Yardbirds et Cream.
Le 9 juin 2021, au Sportpaleis d'Anvers, Eric Clapton sera entouré par un superbe groupe de musiciens, avec ses amis de longue date Nathan East (Basse), Paul Carrack (Clavier), Chris Stainton (Clavier), Doyle Bramhall II (Guitare), Sharon White et Katie Kissoon (Backing Vocals).
Ouverture de la billetterie le vendredi 11 octobre à 10h sur www.gracialive.be , www.teleticketservice.be et www.fnactickets.be