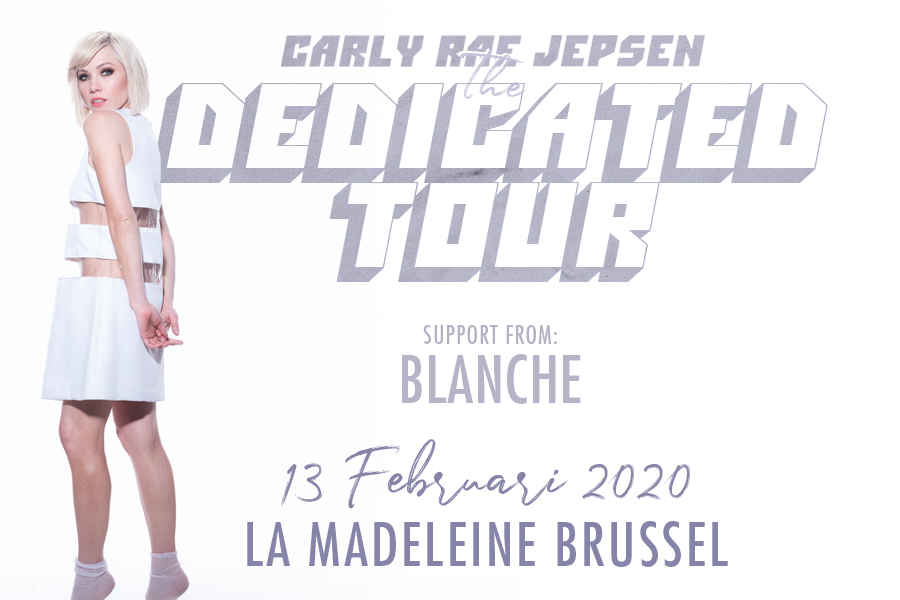 Carly Rae Jepsen
With support from Blanche
En concert le 13 février  2020, La Madeleine,  à Bruxelles 
Après des passages très remarqués au Best Kept Secret Festival et à Primavera Sound l'été dernier, l'icône de la pop Carly Rae Jepsen s'apprête à se produire pour la première fois en Belgique ! Le jeudi 13 février, elle passera tous ses plus grands hits en revue à La Madeleine, à Bruxelles. 
Vous connaissez sans doute la chanteuse canadienne pour son énorme tube « Call Me Maybe », qui a remporté de nombreux prix et a été nominé deux fois aux Grammy Awards. Le morceau a été numéro 1 du classement iTunes Singles dans plus de 47 pays, s'est écoulé à plus de 20 millions d'exemplaires et a été certifié disque de diamant aux États-Unis. Un autre single de l'album E*MO*TION, « I Really Like You », est considéré par le magazine Rolling Stone comme « un chef d'œuvre de la pop ». Quant au site Stereogum, il qualifie Carly Rae de « génie de la pop incontestable et d'une zénitude à toute épreuve. Elle n'a d'ailleurs pas à s'en faire ». 
Son dernier album, Dedicated, conserve le caractère enjoué des précédents et convainc tant le grand public que les amateurs d'underground des qualités de la chanteuse. 
Envie de vivre des moments d'euphorie sur « Part For One », « Want You In My Room » ou « Good Time » ? Les places pour le concert de Carly Rae Jepsen le 13 février seront disponibles à partir du 6 décembre à 10h sur www.gracialive.be. 
With support from Blanche
Just announced! Blanche will be the support act of Carly Rae Jepsen on February 13Th at La Madeleine! "Meetings, writing sessions, songs that, like me, were fueled by travelling back and forth between London and Brussels« . This is how Blanche sums up the three years that passed between one evening in spring 2017 when she revealed herself to the whole of Europe with City Lights and her first album to be released in 2020. Get your tickets quick to see these two powerwomen on stage!