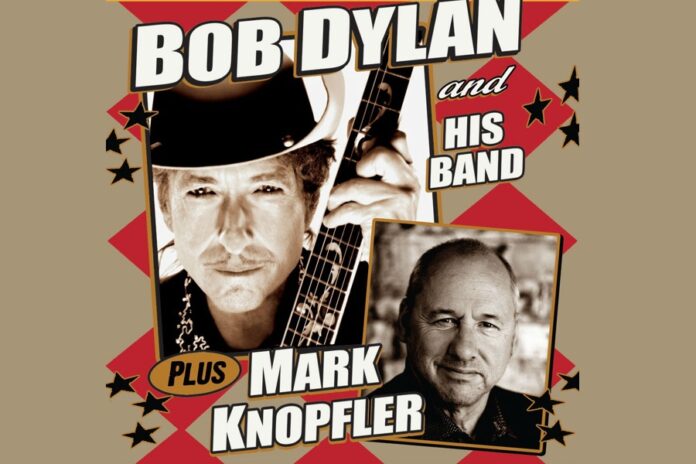 MARK KNOPFLER: The former lead guitarist and vocalist of the "Dire Straits" achieved phenomenal success with his group in the Eighties and still is one of the most popular songwriters and musicians till this day with a remarkable solo career. His sixth solo album "Get Lucky" was highly acclaimed all over the world. Actually he is in the studio to work on his new album, which will be released in 2012.
The second half of the show will be dedicated to a real legend in music: BOB DYLAN and his band! He has been out there on the stage for almost 50 years now, enchanting fans and critics with his hand-made and sophisticated yet commercially successful music. It is not for nothing that he is considered as the probably most influential musician of the 20th century. He stands for a massive output with equally high quality and quantity: Bob Dylan has released 42 records since 1962 and he also sets records with his live performances. He's played more than 2,000 concerts around the world, a concert series which he describes as his "Never ending Tour" and maybe it will never end because his millions of fans around the world won't let him stop touring. "Blowing In The wind", "Like A Rolling Stone", "Knockin' on Heaven's Door", "The Times They Are A-Changin'"… no other artist has such a list of hits that wrote the soundtrack of not only one generation!
Dylan and Knopfler have been working together for a long time, since the late seventies, when Mark Knopfler played on Dylan's album "Slow Train Coming" as a studio musician and co-produced "Infidels" in 1983. Now they will enjoy the experience of sharing the stage. On October 19th, the waiting's over: Bob Dylan will finally step on the stage again together with Mark Knopfler to delight their local fans at the Sportpaleis! This double bill is an absolute must, so get your tickets in time.