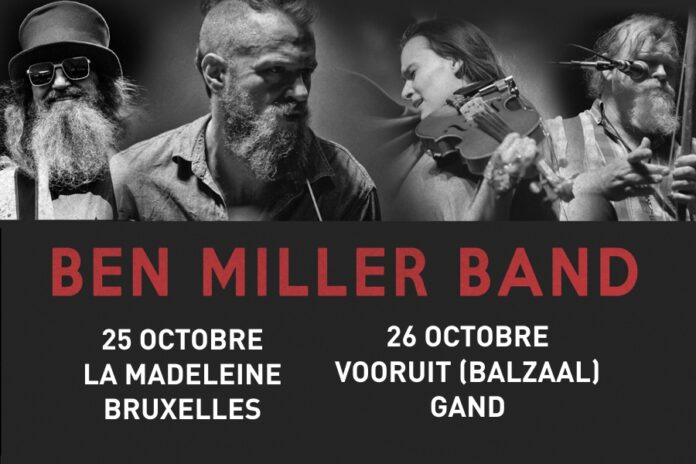 De retour après deux sold out à  l'AB club et De Roma! Le 25 octobre à La Madeleine à Bruxelles et le 26 octobre au Vooruit à Gand
Les concerts époustouflant et unique de Ben Miller Band ont déjà laissé une grande impression sur son publique Nord-Américain et Européen.
Ben Miller Band à déjà un passé en Belgique:  en 2015 et 2016 ils jouaient encore deux concerts à guichet fermé à l'AB Club et un concert à guichet fermé a la salle De Roma à Anvers.  En 2014 et 2016 ils étaient en avant-programme de ZZ Top à Forest National.
En Octobre prochain Ben Miller Band seront en concerts à La Madeleine à Bruxelles et au Vooruit à Gand.
Billy Gibbons (ZZ TOP) – « I don't remember having stood through an opening act's show in quite sometime but I couldn't seem to leave, they were that engaging. »
Dusty Hill  (ZZ TOP) -"I'm all for anything that they'll get things confused. Those boys are unique."
Ben Miller Band est actuellement en tournée, dans sa nouvelle formation, qui compte désormais quatre musiciens. Les multi instrumentistes Smilin' Bob Lewis et Rachel Ammons ont officiellement rejoint le groupe, emportant avec eux tout leur arsenal d'instruments: violon, dobro, dulcimer, claviers, mandoline, banjo, basse, harmonica et – dans le cas de Rachel Ammons – un cactus électrique. Les deux musiciens apportent une nouvelle dynamique exaltante au groupe.