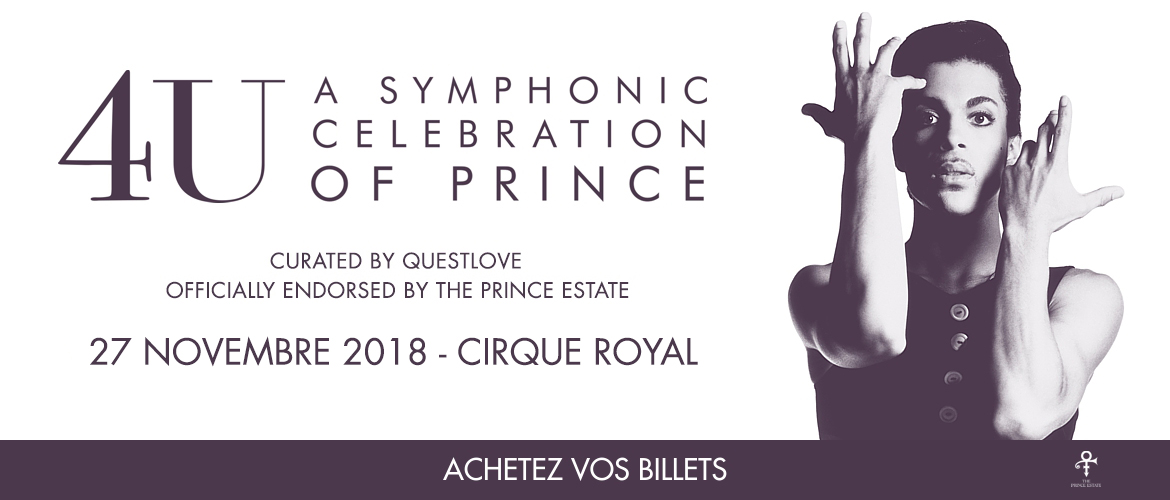 4U:  A  Symphonic  Celebration  of  Prince
27/11/2018 –

CIRQUE ROYAL



---
"4U:  A Symphonic Celebration of Prince" le 27 Novembre 2018 à CIRQUE ROYAL.
Un concert en hommage à Prince sous la direction artistique de Questlove (The Roots)
Le premier événement mondial officiellement validé par The Prince Estate. 
Un show exceptionnel reprenant les morceaux phares du répertoire du chanteur américain avec des archives inédites, mises à disposition par The Prince Estate, dans une scénographie originale utilisant les technologies les plus innovantes.
Tickets en vente via ce lien et dans tous les points de vente Fnac.

POUR PLUS D'INFO CONCERNANT LE DÉPLACEMENT DU CIRQUE ROYAL À FOREST NATIONAL CLIQUEZ-ICI 
4U présente la musique de Prince comme vous ne l'avez jamais entendue, avec un grand orchestre symphonique. De plus, lors de chaque concert, un groupe live composé de musiciens et chanteurs d'envergure internationale se produira avec l'orchestre. Ils interprèteront des titres tirés du catalogue unique et vaste de Prince, mettant en avant les nombreux tubes qui ont captivé des générations de fans sans oublier quelques perles rares moins connues. Questlove, fervent admirateur de Prince, a contribué au choix des morceaux et des arrangements orchestraux qui seront joués par l'orchestre symphonique et a aussi choisi lui-même tous les musiciens et chanteurs d'envergure internationale qui se produira avec l'orchestre.
Le concert au Cirque Royal Bruxelles s'inscrit dans le cadre d'une longue tournée 2018 incluant des concerts aux États-Unis et en Europe.
 « La musique de Prince était unique. Il avait son propre style. » – Ahmir « Questlove » Thompson/Rolling Stone
Cette video vous sers à mieux comprendre le projet